A tradition reignited
2017 has been a benchmark year for ELCO Mutual in many ways. Accomplishments such as the birth of the new Marketing Department in January, the continuation of great new hires, new brochures being published throughout the year and multiple updates made to the website have all contributed to a breakout year. One of our most fun and rewarding accomplishments was the reigniting of the annual golf outing held at Lake Bluff Golf Club, now known as, The W. D. Bruce Invitational.
As ELCO Mutual grows in age it also grows in energy and imagination. Just like in life, the insurance industry has aspects and ideas that go out of "style" and become "cool" again years later. Which is precisely why, on September 14th, 2017, we brought the golf outing back. Just about anyone can play golf: young, old, tall, short, great, not-so-great, and all can have fun playing it. And on that afternoon, that is exactly what happened.
An overwhelming fog with a chill in the air greeted us as we awoke that Thursday in North East Illinois, but that grey gloomy fog started fading as the sun began to peek through in the late morning. Nevertheless, agents and employees gathered for the 1st Annual W. D. Bruce Invitational. As the agents strolled in they were met with the gleaming smiles of Janice Bradford (PHS Associate), Danette Ustanko (New Business Associate), and Rita Grawe (wife of VP Paul Grawe). Throughout the morning, between preparing for the game of their lives and lunch, the agents and employees introduced themselves to one another, conversing over business, hobbies, and life in general. ELCO's executives William D. Bruce (Chairman Emeritus) and Richard Leach (Senior VP) later cruised the course with refreshments, and David Bruce (President) took the hospitality to new heights. ELCO golfers included: Paul Grawe (VP), Lori Lemme (HR), Bill P. Bruce (Marketing), Steve Leach (Creative Manager), Jeffrey Rasmus (Agency Supervisor), James Huitt (PHS Supervisor), Dale Dohm (PHS Associate), and Eric Grawe (Marketing).
After lunch things started to get real. Tee times were beginning as the congregation accumulated at tee box #1, a 380 yd. par 4. One by one, every group teed off on this immaculate sunny 74-degree afternoon, but not before group photos with W. D. Bruce. Throughout the day things became very real. Real as in, we were not real great golfers. However, there were some really great shots on the course that day and we can prove it! Carol Swiden won closest to the pin on hole #16, with ELCO's very own James Huitt taking it on hole #4. Longest drive was won by Dwight Cloutier on hole #9 and David O'Brien on hole #12. Longest putt went to Stuart Otto on hole #18.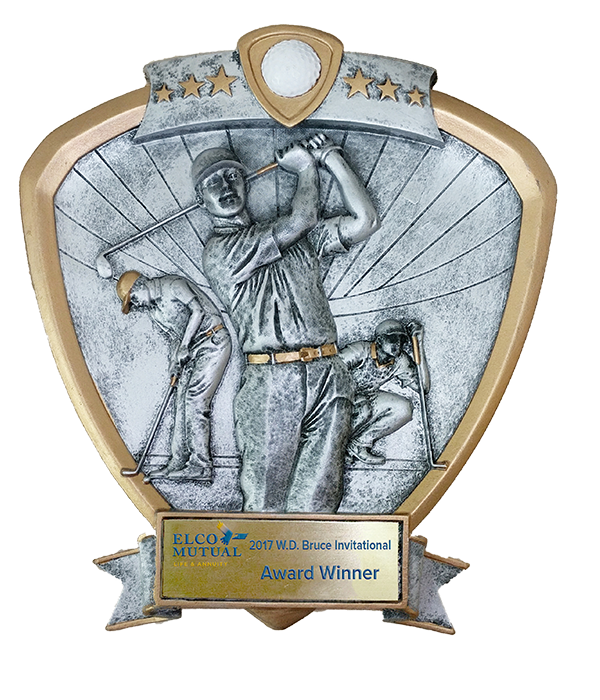 As the golfing came to an end the evening was still young, so everyone proceeded down the road for dinner at Graffiti Grill. The place was ours, and it was time to brag about the shots we almost had, trade tips and tricks, and snack on hors d'oeuvres. After the days winners were announced dinner was served, a buffet of salad, steak, chicken, au gratin potatoes, steamed vegetables, rice, and warm rolls. Oh yeah, and dessert which consisted of lemon bars and melt in your mouth brownies! Members of the ELCO family met with our agents, finally giving them a face to put with the name. One of the many great interaction from the evening came from our very own Sue Mazur (New Business Associate) who walked up behind a producer and said, "ELCO Mutual, Sue speaking." Causing him to turn around in excitement and throw his hands up for a hug. As the evening drew to an end, conversations tapered off and slowly departed one by one with smiles and laughter.
Most importantly this day built relationships, while continuing the growing communication between agent and home office by finding out what we can do to help. The number one priority in 2017 has been our family of agents, and instilling that we are here, we care and "we are listening".
Thank you, agents of ELCO for the continued trend of a benchmark year. Let's keep reaching, building, and growing together.
Click below to see pictures of the 2017 W.D. Bruce Invitational