Accountants find a Home at ELCO Mutual
Sep 26, 2017 |

4 MIN READ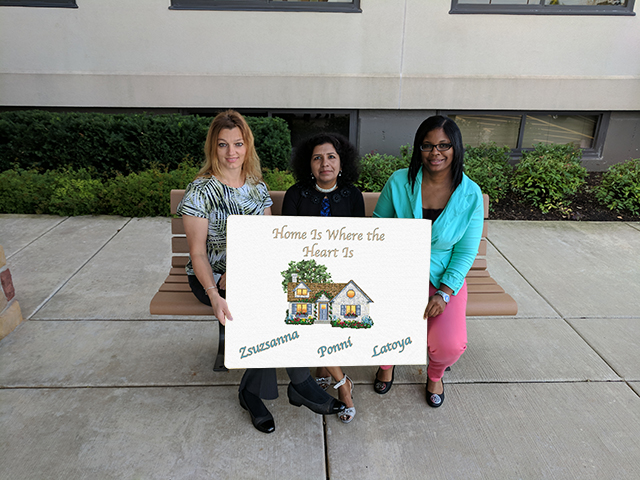 Many have heard the expression, "Home is where the heart is". I've heard a version of that expression used in a few different ways these last few weeks. Let me explain. It was expressed by the President of ELCO, David Bruce, when he told me that he believed the accounting department is the heart of any company. The other time was while interviewing the three ladies that make up our accounting department, and became the dominant theme for this interview. Believe me when I say, I feel privileged to have been able to talk to this department for our latest ELCO employee article. Three women from three different countries came together to make up one very important department at ELCO. As you read on, I hope you'll agree.
Accounting is defined as the systematic recording, reporting, and analysis of financial transactions of a business. I found that ELCO's accounting department has their own distinct definition. Ponni Nainar, having been with ELCO 3 years, is the department's supervisor, and company's CPA. Ponni came from India with a Masters in Accounting, an Associate Member of the Institute of Cost Accountants of India (ACMA), and an Associate Member of the Institute of Company Secretaries of India (ACS). Let's not forget that passion she held for finance since the 10th grade. She arrived in the United States with a background in both the manufacturing and corporate sector. Ponni was a stay at home mom for several years after arriving in the U.S., raising her two very active boys, and getting her CPA designation. After finding us through a job posting, she became the Accounting Department Supervisor within the first 6 months, and a short time after, our Controller. Ponni defines her position as a job that feeds her imagination and passion for excellence. "It makes you want to work on harder things", she says. This department has achieved timeliness and quality, which in turn "makes people believe in us, and that is why we have taken on more from others". "I have found my home. The numbers are always there, but so are the people. ELCO is not only part of my life, it is part of my family". Ponni hopes to attain her CMA, Certified Management Accountant designation.
Our interview turned quite emotive at one point, as Zsuzsanna Rosengard told us about her journey from Romania in 2003. Few of us have left our country and family with a pack on our backs, one hundred dollars, and a language barrier. Zsuzsanna did however, holding an Accounting Certificate and a Bachelors in Social Work in her hands as she arrived in the U.S. Since her arrival, Zsuzsanna has worked for a local park district, was an accountant at a prestigious sports car business in the ELCO neighborhood, and become a wife and mother. We are glad she made a short walk around the block more than 5 years ago, to begin a new career with ELCO. Zsuzsanna couldn't help but reflect on her career so far with ELCO. Not defining it in the usual accounting terms, she told a story of a company that threw a baby shower in her child's honor. She talked about the personal relationships she and the others in her department share throughout the company. She spoke of one of her best feel good moments that came through a letter from one of our policyholders. Thinking that people in accounting positions don't often receive letters of heartfelt thanks, it took her by complete surprise. Asked what her dreams are for the future, Zsuzsanna explained them in very simple terms. Travel will be in her future, excelling in her work, and seeing her son grow and succeed. All her goals can be achieved because she has found, "a family and home at ELCO".
Latoya Stewart is the newest team member in the accounting department. With over two and a half years at ELCO, Latoya is what her teammates call, "the one that wears many hats". Her career path certainly attests to the fact that she thrives on having a great deal to do. Latoya's experience ranges from home child care, to supervisor at a large area resort, to preparing taxes. As if work at ELCO is not enough, she does still prepare tax returns. We call that, someone that brings organizational skills to the table. Since coming to ELCO, Latoya has held two positions. Her first position in Records Management proved to be just what an accounting department was looking for. Who knew that ELCO was just what Latoya was looking for. As we went back almost a year ago, she described an incident with her son, that could have left him paralyzed. Where friends and family fell short of compassion and caring, ELCO rose to the moment. Without hesitation, Latoya was quick to point a finger at her Supervisor, Ponni, for being a great teacher, and the other finger at Zsuzsanna for all the accounting details anyone could ask for. Each accounting team member was asked about what they want to accomplish in their life. Again, without hesitation, Latoya told us that she wants to jump out of an airplane. No one else is interested yet. On the career side, she announced that she will be pursuing her Bachelors in Accounting. Latoya used words not many would to describe accounting in general, like "fun" and "it's like winning the lottery".
2017 may be coming to a close in a few short months, but the doors of the ELCO Accounting Department are open. While striving for the quality and timeliness they are known for, these women continue to work on annual statement filings, budget processes, a new voucher system, improving controls every day, and maintaining that all important relationship with auditors. We are grateful that Ponni, Zsuzsanna, and Latoya consider ELCO their second home because, do we dare mention, tax season is once again upon us.