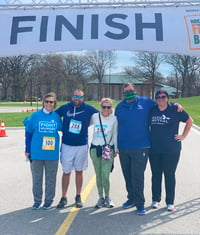 ELCO Joins the Fight Against Hunger
Due to the pandemic, Feeding America has estimated that up to 1 in 9 people in our community face hunger, including 1 in 6 children. In response to this, Northern Illinois Food Bank held their annual Fight Against Hunger 5k/10k.
We at ELCO were thrilled to sponsor the event and have a few employees participate. We are proud of our employees who were willing to go the distance for such a good cause.
Race participants were limited this year and race organizers followed all CDC guidelines including a mask policy, staggered starts, single-serve waters, and limited volunteers/spectators.
Every dollar counts, because each dollar raised can help provide $8 worth of groceries. Together, the Northern Illinois Food Bank was able to raise $188,088.78. That money is going to go a long way for those in need in Illinois.
You can still donate by going to https://solvehungertoday.org/ and click "DONATE". You can also check out their volunteer calendar to see how you can join the fight against hunger.