In Memory of ELCO Chairman: W.D. Bruce
Mar 01, 2022 |

4 MIN READ
It is with a heavy heart that we announce the passing of our fearless leader, William D. Bruce. He passed away on Friday, February 11, 2022. He was 93 years young. It is only fitting that he waited until 1:00 PM to pass away, as ELCO closes at 1:00 PM on Fridays. W.D. lived and breathed ELCO and he taught us all the meaning of hard work. He worked for ELCO for 68 years, sitting as ELCO's CEO for 43 years. W.D. also holds the record of 42 years without using a sick day, a testament to his dedication to ELCO Mutual. His ELCO story is an inspiring one about someone who genuinely loved what he did for a living.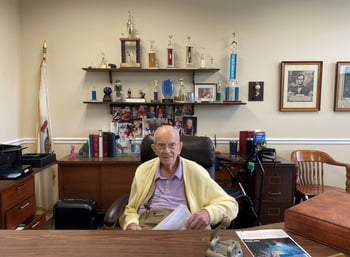 He was the second son of our founder, Harley Bruce. When he came to work at ELCO, he and his brother Bob called their father "Chief" because he was the Chief Actuary. When I joined the company in 1985, I asked my father, "what should I call you?" He responded, "Call me Dad. After all, it too is a title and one that I am most proud of." So, throughout this article, I will respectfully refer to him as Dad.

Dad was the third child of Harley and Patti Bruce. He was born in Monmouth, Illinois, on Sunday, September 16, 1928, at 5:30 AM. After a brief time in Monmouth, he and his family moved to Springfield, Peoria, and eventually Evanston, Illinois. He graduated from Northwestern University in 1950. Shortly after that, he married my mother, Vivian, and he received a job from Dry-Kold Refrigeration with a monthly salary of $250 a month plus $50 for a car allowance. He was a salesperson, and after about a year, he realized that he was not much for sales and its cold canvassing. He then went on to work for General Electric Credit corporation as a collector of bad debts. He said that he was surprisingly good at it and received a promotion and now was earning $350 a month when he received a letter from Uncle Sam inviting him to spend the next two years in the army. This was unfortunate, as my sister, Susan, came into the world. He was stationed at Ft. Monmouth, NJ, where she was born.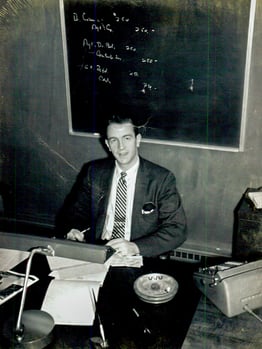 My grandfather had a heart attack in 1953 and knowing that my father's service time was about to end in early 1954, brother Bob encouraged him to join H. N. Bruce & Associates and help with the newly found company, Employees Life. With another baby on the way, my sister, Beverly, and another mouth to feed, he took brother Bob up on the offer, never to look back.

On February 9, 1956, Dad became a member of the ELCO's Board of Directors. A position that he held for 66 years. A record that I imagine will not be broken at ELCO. He served as President and Chairman from 1977 until 2006, when he decided to invoke the Chairman of the Board, with Ed Kulpins replacing him as President.

While Dad was a consulting actuary, his real love was his work with little Employees Life. He nurtured it as if it were his own child. Dad became ELCO's second president on August 12, 1973, when his father became Chairman of the Board. Concurrently, Harley Bruce sold the actuarial office to his sons, renaming it Bruce and Bruce.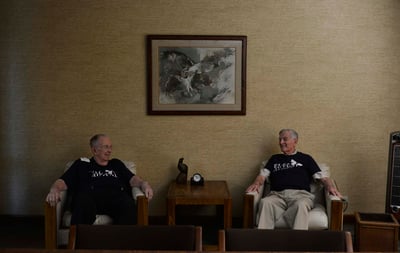 In 1976, Dad had several debates with the Illinois Department of Insurance on converting from a Legal Reserve basis to a Full Mutual. On December 2, 1976, Dad and our attorney, Paul Johnson, had returned from Springfield, IL, with a victory in hand. Unfortunately, Harley Bruce passed away that day before Dad had the opportunity to tell him the good news. He was now President and Chairman of the Board, a title he would hold for the next thirty years. Another company record that will not be broken.

When Dad became President, our assets were $1,735,000 with a surplus of $318,510. We were in only two states, Illinois and Indiana. At the end of his term in 2017, our assets were $763,141,322 with a surplus of $58,547,834. He saw that we were admitted to an additional 40 states where some state departments called him into the director's offices to discuss how admitting a small company would be beneficial. He led us into the senior's market which has been our primary market for forty years.

Dad commuted to ELCO from our home in Lake Bluff to the far north side of Chicago every day. He would use his lunch break every day to drive back to Lake Bluff to do his actuarial work. In 1977, brother Bob and Dad decided to build a new home office for both companies. They chose a lot on Sherwood Drive in Lake Bluff's new industrial park. They were given a choice of addresses, one of them being 916. As that was Dad's birth month and day, it was only fitting that it was the logical choice. For the past two or three years, we have referred to the office as 916. Each time I hear it, I think of Dad.

As for the PDQ, Dad always referred to himself as "The Temporary Editor." According to his story, his father had asked him in January of 1958 to write the PDQ for that month. Dad was happy to oblige, not knowing that he had just become the sole reporter and editor of the PDQ. A job he faithfully held until late last year.

Since 2017, Dad has served as a director of the company and as a mentor to me. He was a quiet individual with a good sense of humor, voluminous vocabulary, and a deep passion. When he made a statement or recommendation, he was direct and to the point.
My grandfather was the undeniable founder of ELCO, but Dad was the father of ELCO. Thanks Dad!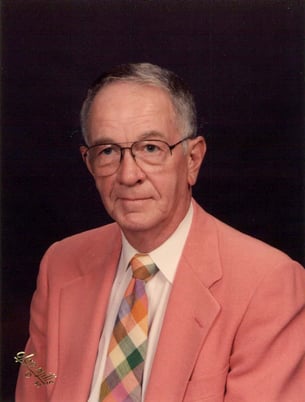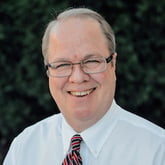 David Bruce
About the Author
David A. Bruce is the President and CEO of ELCO Mutual Life and Annuity.