Every March, we think about the contributions that women have made in our society. We think about their impact on our lives and what we could learn from them. What started as just International Women's Day, which is still celebrated on March 8th, has now expanded into a whole month titled "Women's History Month." We have had the honor of many women making history in the walls of ELCO Mutual. To kick off Women's History Month, we want to highlight the matriarch of ELCO: Patti Bruce.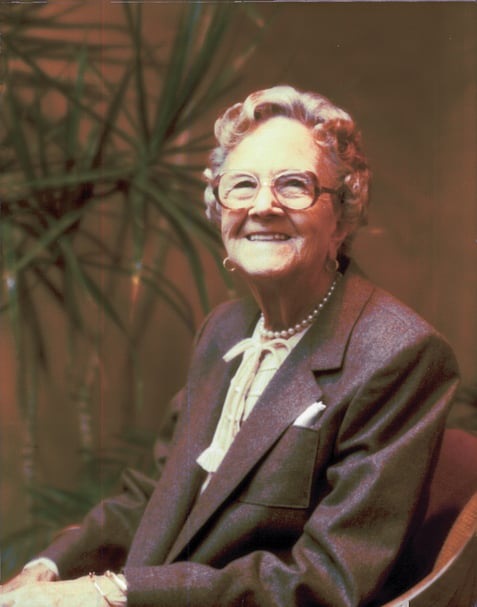 Patti Bruce was born on December 11th, 1897, in Goldendale, WA. She was the eldest of 8 children. Patti spent a lot of her time working on a farm with her father, learning early on about the value of hard work. She went on to study at Northwestern Business College in Washington. It was there that she met soon to be husband, Harley Bruce. As the story goes, he needed someone to tutor him in some classes, and Patti offered to "coach him." They got married in 1920, shortly after graduation. After getting married, they decided to make a big move to Illinois, where Harley started working at Western Union Life Insurance. This started his career in the field and where the dream of opening his own company was born. They say, behind every great man is a great woman, and this was about to be proven true when Harley had a vision of opening a life insurance company.
Patti supported Harley's dream of opening Employees Life, which is now referred to as ELCO Mutual Life & Annuity. However, she didn't just show her support through her words; she showed it through her actions. In order for ELCO to become an official life insurance company, Harley and Patti would have to sell 500 charter policies. Patti hit the ground running and sold many of the required charter policies herself. Patti and Harley made an excellent team, and together, it didn't take them long to sell 500 policies. Patti also played a considerable role in establishing some of the first valuable relationships for ELCO, which Harley then developed. Patti had an outgoing personality, and she was highly organized, which made her the best person to arrange social events for employees and agents. These were a few of the many skills that she brought to ELCO.
Patti was an accomplished stenographer whose short-hand talents were often the solution for needed typewritten documents. Even after hours, there would be times after dinner that Harley would say that he needed to dictate a letter. Patti would quickly write out the letter on a steno pad, only to be followed by the clicking of the typewriter keys onto ELCO letterhead that they kept in the home study. Patti took her work seriously and would work off the clock to ensure that operations ran smoothly. She was also very organized and spread that organization throughout the office. She was primarily responsible for organizing all the file systems, a system that is still used to this day. Her executive abilities were constantly appreciated from the beginning until her death in 1987.
During her time at ELCO, she was Harley's secretary, an ELCO director, and a long-time member of the Board of Directors. The Bruce legacy continued with sons Bob and Bill Bruce and daughter Patricia. Their grandson is current ELCO President David Bruce, and their great-grandson is VP of Marketing, William (Bill) P. Bruce. Each member continues to demonstrate the hard work and dedication that Patti taught us all.