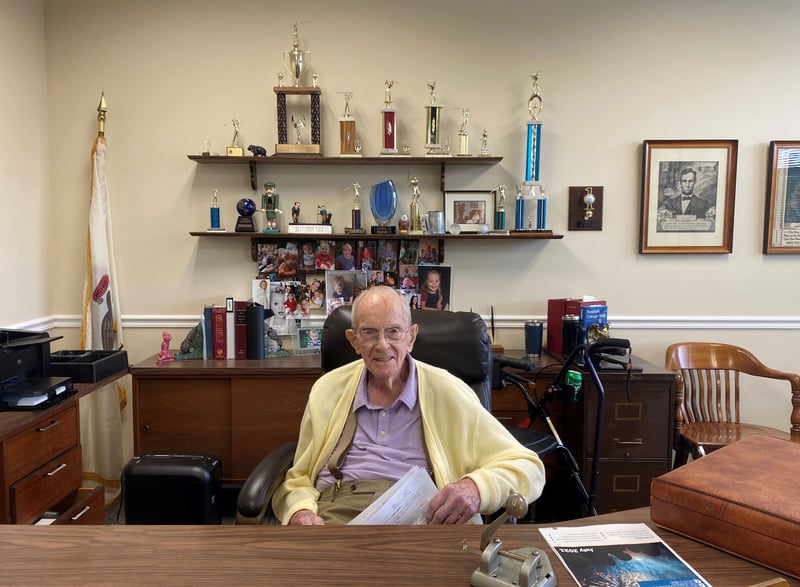 In honor of National Golf Month, we want to take this time to celebrate ELCO's most experienced golfer, W.D. Bruce. He is our Chairman Emeritus and golfed for over 50 years. What started as a hobby quickly became a passion of his and sparked an annual event held at ELCO Mutual celebrating his favorite sport and former leadership.
In the 1970s, Bob Bruce, the older brother of W.D. (Bill) Bruce, gave some advice. He said, "Bill, you are working too much and need to find a hobby." Bob was a marathon runner, and that was his hobby. W.D. knew that running was not for him and spent the winter deciding on a hobby. He chose golf.
Every morning at sunrise, he would go to the Lake Bluff Golf Course and practice for about an hour and then make his trek to the office located in Chicago, IL. He became an avid student of the game, reading countless books on golf and even subscribing to a golf magazine. He became a golf enthusiast.
By the end of the 1970s, W.D. was a member of the Lake Bluff Golf Course and had a decent handicap. Both ELCO and Bruce moved to 916 Sherwood Drive in Lake Bluff, just two miles from the golf course.
At ELCO, we used to call winter "bear season." Not because of the Chicago Bears, but because W.D. would work six to seven days a week during the winter, and he became somewhat of a bear. When spring would come, he would come out of his cave and play golf on Tuesday and Thursday afternoons.
In 1985, W.D. and his beloved wife Pat lived in a condominium, and she said that she wanted a yard. W.D. replied, "That is fine, as long as it is next to the golf course." They found a lot located on the tenth green of the Lake Bluff Golf Course and built their dream home.
Because he loved golf so much, he wanted to find a way to shorten his winter month layoff. He and Pat built a winter home in Arkansas, and you probably guessed correctly that it was close to a few golf courses. W.D. would take his golf buddies, Tommy, Joe, and Kurt and play 36 holes a day.
W.D. won numerous trophies during his golf playing days. All of which are on a shelf in his office here at ELCO. As a tribute to his love of golf, we dedicated our annual golf outing after him. The W.D. Bruce Invitational was postponed in 2020 due to the pandemic, but we will have it this year in conjunction with a celebration of our 75th anniversary.