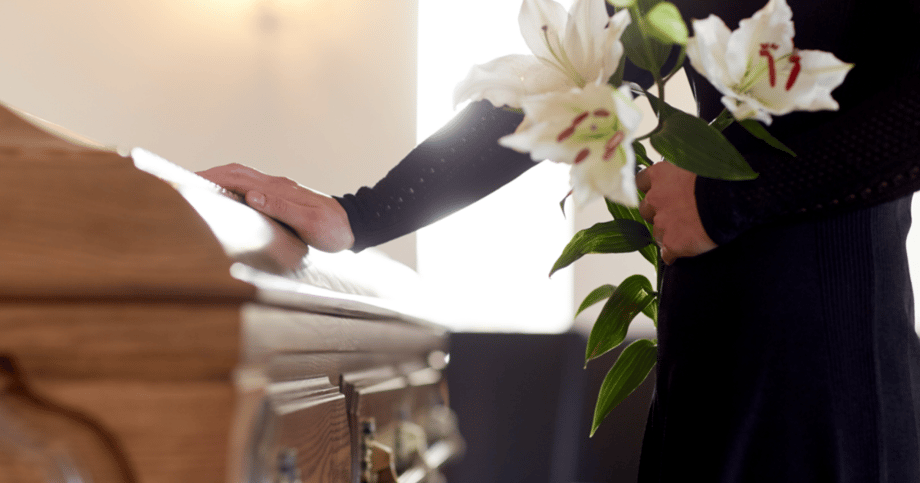 Planning a funeral can be emotionally draining. Not only is it often unpleasant to think about the end of your (or a loved one's) life, but funeral planning can be expensive. There are many factors to consider when preparing for a final send-off and most of them cost money.
How much does a funeral cost? What are some of the specific expenses you'll need to prepare for? What's the best way to offset funeral costs so your loved ones won't be burdened after your passing?
How Much Does a Funeral Cost?
Funeral expenses can vary greatly depending on where you live and what your specific plans are. According to World Population Review, as of May 2023, the state with the lowest average cost for a funeral is Mississippi at $6,568 and the state with the highest average cost is Hawaii with an average cost of $15,203.
There are many basic fees and costs included in a funeral, such as:
The Basic Service Fee
When you plan your funeral, you will start by choosing a funeral home. They will sit down with you and your family and go over your needs and wants. All funeral homes charge a basic services fee to cover services such as obtaining copies of death certificates, securing any permits needed, sheltering the remains, and coordinating the event.
Service and Merchandise Fees
This is a broad category of fees that can cover items such as transporting and preparing the body, fees for the viewing/memorial, and any equipment or services needed for a graveside service.
Cash Advance Fees
If the funeral home handles the acquisition of resources for the funeral, such as caskets, flowers, the labor of clergymen or other functionaries, or any other service or resource that requires payment on your behalf, they may charge a cash advance fee.
If you're working with a funeral home to plan either your or a loved one's funeral, it can help to have a legal expert review the funeral home's contract to make sure that any cash advance fees (or other fees) are disclosed in accordance with the Federal Trade Commission's (FTC's) Funeral Rule.
Burial Costs
One factor that can have a major impact on the cost of a funeral is whether you choose to be buried or cremated. If your preference is burial, then the following costs may apply:
Plot of Land
The cost of a burial plot can vary depending on where you're being buried and the size of the plot. Options include single burial plots, companion plots (so you can be buried next to your spouse/significant other), and family plots (where you reserve an area of a cemetery for members of your family).
As the size of the plot increases, so too does the cost. According to U.S. News, "the average price of a burial plot ranges between $1,000 and $4,500." However, if you plan on buying a double plot or a family plot, the cost could run much higher.
Headstone/Grave Marker
To help identify your resting place, you may want a headstone or other grave marker that your loved ones can easily find to pay their respects after you're buried. The cost of a headstone/grave marker can vary greatly depending on where you're ordering it from and the material used to create it.
More specifically, common estimates put the price of a headstone between $1,000 and $3,000, though costs can vary outside of this range. For example, if you opt for a more detailed headstone or one meant for a double plot, then the cost for materials and engraving will naturally increase compared to a simpler grave marker.
Casket
Caskets can be a major expense in any burial—especially if you purchase directly from the funeral home and pay their markup. Even when purchasing directly from a casket manufacturer, the price can vary based on the materials used and the cost of shipping from the manufacturer to your location. Base costs for caskets can range from about $600 to over $15,000.
Some funeral homes also offer "rental caskets," which are a more affordable option for those who may find purchasing a casket outright to be cost-prohibitive. The average cost for a rental is between $500 and $1,500, depending on the casket type and the funeral home's rates—though some caskets might cost more.
Burial Vault/Coffin Container
A burial vault (also called a coffin container) is a reinforced container that helps protect a buried casket/coffin from being crushed by the weight of the soil placed over it. Some funeral homes may require this addition to protect the burial plot from sinking over time.
The cost of these vaults/containers varies based on materials, but Cost Helper puts the price for a basic grave box between $400 and $1,500.
Cremation Costs
A popular alternative to a traditional burial is cremation. After death, the person being put to rest is incinerated until the bones are turned to ash. The ashes are then transferred to a container (typically an urn) for burial or display.
Cremations are typically less expensive than burials and, according to US Funerals Online, the average price in the US for a full-service cremation is about $6,219. Some basic cremation costs include:
Cremation Fee
The cremation fee is assessed by the crematorium to incinerate the body and collect the ashes for preservation and remembrance.
Cremation Casket
The cremation casket is the box put into the cremation chamber to burn alongside the body and assist in the cremation process. If you plan to have a viewing or visitation before the cremation, some funeral homes offer traditional caskets for rent.
Urn
The urn is the receptacle for your ashes and what will be on display after your cremation. Funeral homes usually provide a basic container, but some families want something more presentable. The price of an urn can also depend on style, material, engravement, and size.
For adults, urns can vary between $79 and $350 on average depending on make (Source: Urns.com).
How to Prepare for Funeral Costs
Depending on your plans for your end-of-life celebration the cost of a funeral can vary wildly. So, what can you do to prepare for these final expenses? Some preparation methods include:
Deciding on Your Funeral Arrangements with a Funeral Home Early
Your funeral costs will vary greatly depending on where you're buried and the specific arrangements you make. One important step in preparing for these costs is to make arrangements with a funeral home before you need to be buried or cremated.
By making arrangements sooner rather than later, you can get a good idea of what your expenses will be. This, in turn, can make it easier to identify how much money you'll need to set aside for end-of-life expenses.
Preneed Insurance
Preneed insurance is one of the ways you can make arrangements with a funeral home before you pass. You'll discuss your funeral checklist and the costs of each element of your funeral. That money is then put into a life insurance policy to cover the associated costs.
Then, you pay premiums to the insurance company and after you pass, the money is given to the funeral home to cover expenses. ELCO's Preneed Advantage policy premiums can be paid as a single, lump-sum amount or in multiple installments.
Final Expense Insurance
If you want more flexibility in where you'll be buried (perhaps because you don't know if you'll be moving away in the future or be able to get other arrangements), then final expense insurance may be a good option.
This is a type of whole life insurance that complements your primary life insurance policy to help pay for final expenses—including funeral costs. It can even be used to fund a wake or travel expenses so loved ones can attend the funeral. ELCO's final expense insurance offers competitive premiums and the potential to grow the policy with annual dividends.*
For more information about life insurance, subscribe to our blog!
*Dividends are not guaranteed and may vary depending on the insurance company's terms. Please consult with a financial advisor for more information.