Which Type of Final Expense Insurance Coverage is Right for You?
Sep 07, 2023 |

5 MIN READ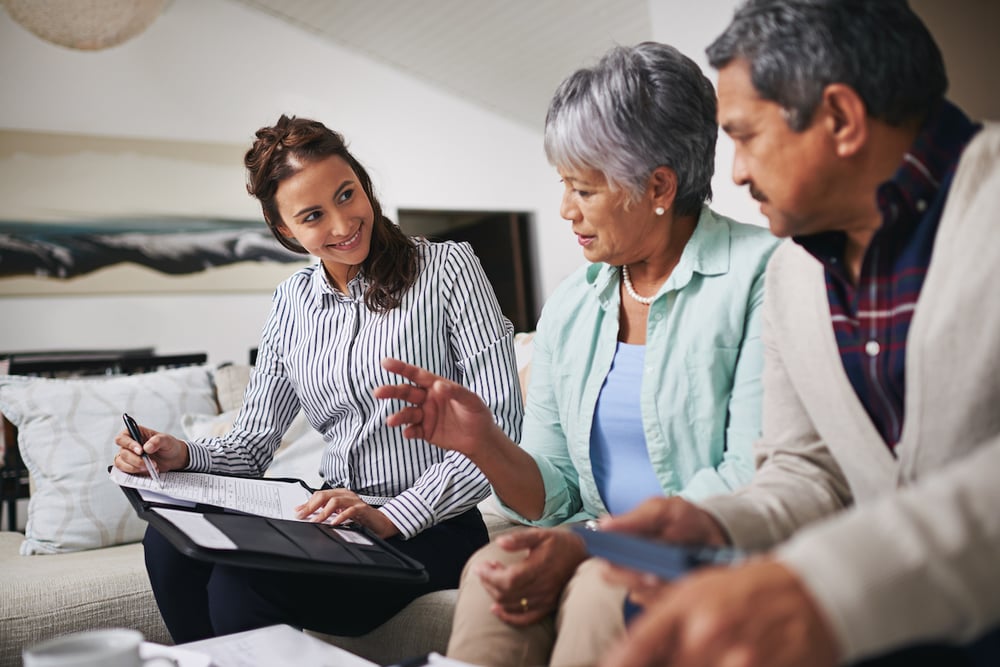 Planning for your family's financial security can be stressful at times, but the sooner you take action, the more support you'll be able to provide for them after you're gone. Final expense insurance, also known as burial or funeral insurance, is a low-cost option for people who may not be in great health but are still seeking out life insurance with a set death benefit.
A final expense insurance policy allows your beneficiaries to do what they want with the money from the death benefit. This death benefit is usually applied to end-of-life expenses such as medical bills, funeral costs, and more.
Selecting a final expense insurance option is one of the many steps you can take to prepare your family for the future. To help you better understand the ins and outs of this kind of whole life insurance policy, let's take a closer look at how final expense insurance works and the types of policies that may be available for you.
How Final Expense Insurance Works
As a permanent life insurance policy, final expense life insurance provides a guaranteed death benefit that won't expire as long as the premiums are paid. These benefits can help your family cover end-of-life expenses, reducing their stress during a period of grief and loss.
Final expense insurance was designed as a solution for seniors who may be in poor health and are unsure if they can secure a more traditional life insurance policy with an insurance provider. These policies typically have a lower death benefit than a traditional life insurance policy, but they also tend to have a smaller premium. If you're retired and want to add an insurance product that is within your budget, a final expense policy may be an ideal fit for your needs.
As a whole life insurance policy, as long as you are able to pay the premiums, your family will receive the death benefit associated with your final expense policy after your death. While it may only be a small amount compared to a more traditional policy's death benefit, this added funding can go a long way to minimize the financial impact of your end-of-life expenses on your family.
Types of Final Expense Insurance Policies
Not every final expense life insurance policy is the same. Depending on your health and how much you are able to afford in premiums, there is a policy option that is right for you. Here are some of the different death benefit types associated with a final expense policy.
Immediate
An immediate or standard final expense insurance policy allows for beneficiaries to receive full death benefits no matter when or how the policyholder died after the start of the insurance policy.
Graded Benefit
Under a graded benefit plan, beneficiaries may receive benefits from the insurance policy at a limited amount depending upon how soon the insured individual passed away after the start of the policy.
For example, a graded benefit policy may have it so that if the insured passes during the first year of the policy, up to 40 percent of the benefit will be given to the beneficiaries. If the insured dies within the second year, up to 80 percent of the benefits will go to the beneficiaries.
The total benefits will go to the beneficiaries if the policy holder passes after the first two years of the policy. These percentages may differ between insurance companies and their specific policies, but the beneficiaries can expect to receive a portion of the benefits depending on when the individual passes after the insurance policy initially goes into effect.
Modified
Beneficiaries may receive death benefits at full value if the death is a result of an accident. If the death is not an accident, then the beneficiaries might be given limited benefits in the first two years of the policy, similar to graded benefit final expense insurance policies.
Guaranteed Issue
A guaranteed issue final expense insurance policy requires a two- to three-year waiting period before being eligible to receive benefits. If the insured individual passes away before the end of this waiting period, the beneficiaries will not be eligible to receive the death benefit. However, they may receive a return of the premiums that have been paid with interest.
So, what makes a "guaranteed" issue policy? Guaranteed issue policies are not subject to the same underwriting requirements that other insurance policies are. Applicants don't have to answer any health questions or take medical exams to assess their risk. This may make a guaranteed issue policy ideal for someone who has medical issues that make passing traditional underwriting requirements difficult.
Assessing Which Type of Final Expense Coverage is Right For You
Now that you are familiar with the different types of benefits and final expense insurance policies, it's time to determine which policy is right for you. Since final expense insurance is a type of whole life insurance, you won't need to worry about your policy expiring so long as your premiums are paid. Depending on your health and your finances, some policies may be better suited for you and your family over the other options.
In general, final expense life insurance is great for anyone looking for an affordable policy that will help cover any outstanding balances and funeral costs. The cost of premiums tends to be lower than traditional insurance policy, making them quite affordable if you are looking for something that will fit a tight budget. When evaluating your policy options, it will be important to have a discussion with your family and your insurance agent regarding your current health, finances, and what you expect to cover using death benefits.
An immediate final expense policy is a good option for anyone who is not in good health because beneficiaries are eligible to receive benefits without a waiting period. A survey on the health and medical history of the policyholder may determine how much the premium on this policy will be and influence the death benefit amount.
A modified policy might be good for someone who is in good health. While you can't always predict when accidents will happen, a modified policy will still provide your family with some assistance when covering end-of-life expenses.
Graded benefit final expense insurance policies may be suitable for a person who experiences minor complications regarding their health and their condition might progress over several years, preventing you from qualifying for immediate coverage.
In contrast, guaranteed issue insurance policies are a good match for anyone whose health may be declining. Someone with serious health conditions could be denied other forms of life insurance, but a guaranteed issue policy can still provide them with the coverage they need.
Contact an ELCO Agent Today!
Preparing for end-of-life expenses is never an enjoyable conversation to have, but it is one that will help your family when facing a difficult time. ELCO's independent insurance agents are ready to discuss our available products for final expense insurance to make sure you are well prepared for what's to come.
Our Silver Eagle Final Expense Insurance policies are an excellent choice when considering benefits associated with life insurance coverage. To get started, speak with an independent agent today!